---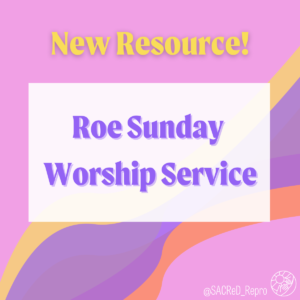 January 22, 2023 would have been the 50th anniversary of Roe v. Wade.
We acknowledge that even though Roe established the legal right to an abortion, so many people faced obstacles like racism, economic disparities, gender inequities, and environmental concerns that limited their access to that right.
We've mourned the overturn of Roe. We've protested. We've prayed. We've organized.
And now we come together to worship.
The SACReD team designed a worship service to not only mark this important day, but to inspire us to move forward toward justice for all. While this service was designed for a particular Sunday, we hope these resources will be applicable whenever you address reproductive justice in worship.
---
Faith Community Leaders Issue Statement Condemning Dobbs Decision, Abortion Access a "Moral and Social Good"
June 24, 2022
WASHINGTON D.C.—We at SACReD believe that affordable access to all forms of reproductive healthcare, including abortion, is a moral and social good that enables equality and the well-being of all people.
Conversely, state bans on abortion amount to forced gestation and birth and are, therefore, morally barbaric. Such laws, which the Dobbs ruling will now allow to proliferate, violate the most basic human rights to bodily autonomy, reproductive dignity, and moral agency.
Further, the bans' disproportionate burdens on Black people and other people of color call to mind historical atrocities committed against enslaved and other colonized women.
SACReD is working to engage in faith-based culture change to empower congregations to become loving, justice-seeking faith communities that fully support the fulfillment of reproductive moral agency and flourishing for all – join us!
Angela Tyler-Williams, SACReD's Co-Director for Movement Building issued the following statement:
"Let us be clear, abortion access is a moral and social good. People of all faiths and no faith have abortions. This decision inflicts immeasurable harm on persons who are, or may become pregnant throughout the United States, for no reason other than personal political preference."
"To those with moral concerns about abortion, we point out that male fertilization does not equal procreation. Rather, conception is only the beginning of a long procreative process. Women and others with the capacity to gestate need liberation from patriarchal theologies that erase and devalue their enormous role, and necessary consent, in matters of reproduction."
Action Items
Here are 5 ways to take action right now.